Website Design Services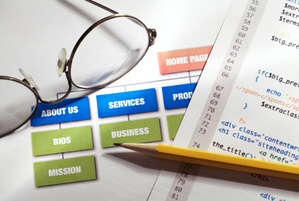 Our website design services were created with small and medium sized businesses in mind as well as individuals and clubs. Our aim is to provide you with a website design, fully installed and operational which you can then take over and maintain without having to know HTML or PHP or CSS or anything else. 
If you can use wordprocessing software you will have no trouble managing the content of your website in the administrative backend. If you do run into bother, then we are only a  phone call or an email away.     
Our prices start at £175 plus VAT - which we believe is exceptional value. 
How does It work
After our initial chats with you we will put togther a package to meet your requirements, at all stages through the process you will be involved and, if necessary, given training on using the backend administration. 
What You'll Get
With all Website Designs you'll get 
Domain Name - .co.uk
A website designed and installed on your Content Management System *
A Content Management System (CMS)  installed *
A Website Designed that has been built with you
3 Email addresses Set up *
Initial content uploaded - unless otherwise agreed
Stock images sourced and purchased as required **
Contact Form(s) set up
Additional components installed as required eg Forum,  eCommerce, gallery, etc
Access to your hosting panel - should you wish it
* Content management systems are available with our hosting service, however this may not be the case if you want to use alternative hosting services. You can off course transfer existing domain names to our hosting if you wish.
** Stock images are charged at cost plus a small admin charge.  In total Stock Images usually cost about £2 per image - all in. 
After Deployment
What happens after your website has been deployed and passed over to you as a live website: 
If you have taken the opportunity of a CMS system you will be able to edit existing articles on your website and add new articles
If you have an eCommerce component you will be able to add new products, change product descriptions and update prices. You will also be able to take orders and payment for goods on-line. 
If you have a Gallery you will be able to add and remove images as you require
If you need help or advice you can call or email us. 
If you have access to your hosting panel you will, amongst a lot of other things, be able to add extra email addresses to your package
If you have hosting or domain names with us you will receive an annual bill from Drumlin Business Services
You will be able - via 1 click technology - to keep your CMS up to date
You can at any stage change your website design without having to redo any work on your website content.